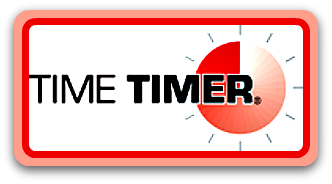 setting time limits for work or practice sessions

keeping track of time during testing

keeping track of silent reading time

keeping track of time during therapy sessions

helping students learn to manage their time wisely

providing a visual aid for learning about the passage of time

helping children monitor their time spent during chores, homework, or play activities

and many more practical uses, from timing exercise periods to timing computer use
timing silent reading

timing Bible devotions

timing math or writing exercises

placing limits on recreational computer time

challenging the kids to beat the timer for quick completion of chores

timing "ten minute pick ups" around the house

timing how long each older kid was in charge of "mini-mayhem, octopus arms" Baby Boo

timing piano practice

timing tooth brushing and other nighttime rituals

timing brownies and cookies when we were in areas of the house other than the kitchen during baking

timing how long each student gets to do their computer work before having to let the next one have a turn

"Time Outs" (yes, we did need to do some of those…sigh)

limiting Mommy's blogging time (that was a BIG help for me!)
The
Time Timer
comes in a variety of sizes
, ranging from 3" to 12", to accommodate its
many potential uses
. It is also available as a watch, an
app for the iPod and iPhone
, and a software program for your computer, though personally, I thing the actual clock itself is the idea tool (but the watch might be good for an older student like Tex).
Time Timers
are $30.00 for a 3" model, $35.00 for the 8" model, and $40.00 for the 12" model (perfect for classroom and group use). The software is $24.00, while the watch is available for $40.00.
Orders placed in the United States and those which total over $50 receive free shipping.
I encourage you to
check out the Time Timer website
and consider whether this might be
just what your child needs
to help him or her learn to
manage their time more effectively
…Learning to
"make every moment count"
could make this your child's best school year ever…
I know it has already improved ours.
Click here
to see what others on the TOS Crew thought of the
Time Timer
.
Blessings,
Disclaimer:
I received a 3" Time Timer for the purposes of testing it out so I could write this review. What you have read here are our honest and personal experiences with this product. If you have any questions I failed to answer, please feel free to contact me or leave a comment.