Homeschool Legacy
and
Once-a-Week Unit Studies
are the creations of Sharon Gibbons, a 16-year veteran homeschooling mom of two boys who love and serve the Lord.
Early in her homeschool journey she realized she needed to add something to their experience that would enrich their learning, make good memories, and build a legacy for her family.
What she came up with was using unit studies that interested and involved everyone, including Mom and Dad.
The blessings that rose from the solid foundation of those studies were so rich that she decided to share her labors of love with homeschooling families everywhere, saving them the research and as much preparation time as possible, leaving them free to simply learn and enjoy TOGETHER.
Her thoughtful, but simple unit studies provide the basic outline for your four to eight week unit study of a variety of topics (see list below).
Ranging in price from $15.95 to $19.95 these printed studies come with an explanation of how a unit study works, a suggested schedule, a list of books and other resources you will use, including a weekly family read aloud, a weekly family devotional selection, craft and project ideas, a movie night title, suggested field trips, "Stump Dad" trivia questions, and as an added bonus, many of them link the work you complete during the unit study to corresponding Boy Scout, Heritage Girl, and 4-H badge/project requirements. Most are intended for children in grades 2-12, though some activities may need adjusting in difficulty to suit the specific needs of your children.
The bonus to that "tweakability" is that your entire family can work together on the unit study instead of everyone going in different directions.
The
Once-a-Week Studies
are flexible in that they not only allow you to choose which activities will suit your family best, but they also list the books they suggest by call number so that if your library does not carry a particular title, you can search in the same area of the library for a compatible substitution.
You are also welcome to adjust the suggested schedule in any way you like
, spreading out the work over a longer period of time for younger children, or switching around the order of the study (each week has a different focus and is a complete unit on that topic).
From the website:
"By making learning fun and interesting, you will be creating wonderful memories, insuring greater
retention

of the subject matter, providing a quality educational environment

,
while also building stronger family relationships."
"Once-a-Week Unit Studies are flexible enough to enhance your present curriculum, but are also comprehensive enough to choose as your main educational source for history and science."
"...you will not find frivolous activities, but only those which will enhance your unit study experience, and provide a classic, quality education while building warm, family memories."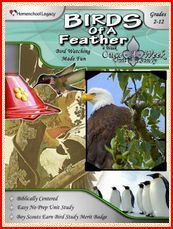 We chose the
Birds of a Feather
study, as my kids are budding naturalists anyway, and we already own quite a few books on birds, so a trip to the library would not be necessary. We received a pdf download copy of the study to review, but if you ordered one, it would be a print copy, which I think would have suited me better.
All geared up to go on a nature hike!

Here is a
suggested schedule
for incorporating the Once-a-Week Unit Studies into your homeschool plan.
Remember, this is only a suggestion.
One of the best things about this sort of unit study is that it is flexible and should serve you, not make you a slave to it.
The unit was divided into four weeks, each week covering a different topic.
Week One was Bird Basics and Your Backyard Habitat. Week Two was Bird Identification. Week Three covered Ornithology (the inside and outside of a bird). Week Five was the guys' favorite: Birds of Prey.
On the way to see the Canadian Geese that landed on the pond.
Most of the supplies needed for the unit were things we already had handy,
like binoculars, a bird identification guide (or internet access), lots of books, and some common household items to construct bird feeders and houses, or to make food for birds. We did have to buy varying kinds of seeds and if you were to choose to do the owl pellet dissection (instead of
this cool one
on the internet for free), you'd have to order an owl pellet ahead of time.
Here are examples of a few pages from the first unit in
Birds of a Feather:
Titles in the Once-a-Week Unit Studies series:
"Do you like my hat?"
He got a new one for his birthday.,,and lots of great
bird and bug watching tools, too. I love that my kids
think learning and exploring their world is so much fun
that it's what they want to do for their birthday party.
Hey! That's not a bird...that's Tex.
What I Thought:
I liked that each week incorporated a pertinent Bible selection. It is important to put God first and I think it's great when we can seamlessly tie the Bible into things we are studying.
The book suggestions were good, and since the author is flexible in saying the titles are just suggestions, that works well for me.
I thought the movie and read aloud suggestions were good ones. We loved The Wheel on the School. It is a classic that I had never gotten around to reading to the kids before. Fly Away Home is a favorite movie of ours (caution: there a few colorful words, but the message is excellent).
I liked how the studies are meant for all of the family members to work on together. With kids at home ranging in age from 14-3, sometimes it seems they don't all get together too often, even in the same house.
The idea that one day a week is set aside for something fun and different appeals to me. We already do that to a certain extent with our "activity of the day" idea to add variety, so adding this in was not difficult for us at all.
I liked how the study made an effort to involve dads by including the "Stump Dad" trivia. The kids liked quizzing their dad when he got home on unit study days, and that led to more questions about what they had done that day. I wish he'd been able to participate more, and I think he'd have liked to, but this was a particularly busy time for us.
The experiments and activites were clearly explained and tied in well with the content being studied each week. I would have liked to see some reproducible handouts on things like parts of a bird, egg/embryo development, or template for a nature journal, though (or at least, links to where they can be found, or a page on the website that is maintained with current useable links). These kinds of printables are all available on the internet, but finding them requires time, and the idea is that this study is to be saving you time. Yes, your older children will have no problem drawing their own picture of a bird and labeling it (or tracing one), but younger kids may need a bit of help.
A few examples of what nature journals might look like when completed would have been nice, too. I know what ours look like, but someone not familiar with the concept would have no idea and again, have to go look up more information on the internet.
I think this unit study would be excellent for a co-op setting, or with even just one more family. The more the merrier, I say, and I can see groups of children trooping through the meadow with their explorer stuff on, looking for birds, holding their binoculars upside down and backwards. Seriously, if you do it in a group, each adult could take a portion of the work/teaching and everyone would get to share in the fun. It would be many lively and educational memories for very little effort.
Here's a great lapbook idea I found online you might want to use with your younger kids if you purchase this study.
Tramping through the woods with Daddy and the cousins.
If you'd like to read other reviews of the
Birds of a Feather
unit study or other Weekly Family Unit Studies in the series, check out the
Schoolhouse Review Crew blog
. By clicking on the "
Click Here to Read Crew Reviews
" button, you will find links to other fine homeschool blogs. Beneath the thumbnail pictures are labels and each will list the unit study that was reviewed.
Blessings,
Disclaimer: I received a pdf downloadable copy of the Birds of a Feather unit study for the purposes of reviewing the product and offering an honest review on my blog. All opinions you read are my own. No other compensation was received.